NOTE: As of December 1, 2007, the ship-board project has been suspended indefinitely.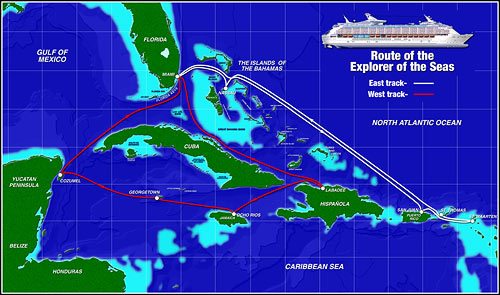 http://www.rsmas.miami.edu/rccl/
The Regional Ocean Modeling System (
ROMS
) is used for data assimilation and ocean prediction in the Intra-Americas Sea (IAS) with particular emphasis on the Caribbean Sea. Through an innovative partnership between the University of Miami Rosenstiel School of Marine and Atmospheric Science (
RSMAS
), the Royal Caribbean Cruise Line (
RCCL
),
NOAA
and
NSF
, an
RCCL
cruise ship, the
Explorer of the Seas
, has been equipped with a comprehensive suite of oceanic and atmospheric sensors, which provide continuous observations along two cruise tracks that circumnavigate the Caribbean Sea once every 2 weeks. This is an unprecedented research data set, and provides an unique opportunity to test ROMS and its associated ocean data assimilation and prediction systems in real-time and at sea. This can also be viewed as a proof of concept study both for similar enterprises that are planned for future commercial cruise ships in other parts of the world oceans, and for operational data assimilation and prediction aboard Navy vessels at sea.